During the launch of Global Summit Telemedicine & Digital Health APM 5th edition, Andreas Keck shared all his experience in consultancy and solution development for big companies worldwide and highlighted the points to be observed when it comes to driving Digital Health strategy development and products.
German cardiologist, scientist and entrepreneur Andreas Keck, expert in Health technologies and innovation, was in Brazil last week to attend the launch of the Global Summit Telemedicine & Digital Health APM 5th edition. The event, promoted by São Paulo Medical Association (APM), will be held this year November 20-22, at the Frei Caneca Convention Center, its main topic being "Digital health for all."
Keck is an international business consultant for health-oriented organizations and researcher of innovative digital technologies that are being used globally, in addition to founding many companies. After working as interventional cardiologist, he joined the Boston Consulting Group and became an associate at SYTE (Strategy Institute for Digital Health) – Digital Health global institution that supports pharmaceutical, medical technology and insurance companies for outlining Digital Health strategies.
Currently, he is involved in the research and creation of companies based on advanced artificial intelligence algorithms, working on sets of exclusive information, including genetic, clinical, laboratorial and electrophysiologic data. And was exactly from a perspective on all this that the executive brought to his explanation, whose main topic was "Navigating Healthcare systems: How Digital Health is Transforming Patient Care and Business Models."
The need of understanding the profile of medical professionals, their concerns and the relationship with the adoption of technology is, according to him, a starting point when talking about Digital Health. Differences in value understanding and perception vary as per "persona." There are today five different personas in this public: managers, business developers, scientists, sceptics and enthusiasts.
"For example, we can say that only enthusiasts are open to try the full potential of Digital Health. After all, these are people whose main goal is to use disruptive technologies whenever possible, they are fascinated by new technological offerings and curious to know how they can be useful. That is, they adopt all features that seem to have a positive impact on the work and medical approach. The sceptics only adopt technologies that help them abide by the law," he explains
The current moment of Digital Health worldwide was also a point observed. Europe today is the region having greater active investments when it comes to digital therapies (DTx). A market that can reach a volume of 4 billion dollars by 2030. The increase of Health cost, having as main driver the cost with adoption of efficient treatments, emerges as a motivator in this setting, as well as the prevalence of chronic diseases.
He highlights that the moment is ideal for Digital Health worldwide, especially for adhesion to medication, being extremely important to not only meet expectations and improve patient experience, but also meet their needs in continuous evolution.
"There are many puzzle pieces, and new adhesion perspectives through Digital Health. Patients are increasingly using technologies that help manage their Health, and as consumers they expect more holistic services, developed according to their needs. There is also change from treatment-centered care to patient-centered care. At the same time, reduction in hospitalization and increase of revenues are expected. All that in a setting with new technological approaches, like mHealth and IoT, and pursuit of treatment customization and incentive," he explains.
Keck adds that, in parallel, by increasing adhesion and proper use of medicines may help reduce pressure in Health sector and generate new revenues through prescription apps.
Other technologies that may help in this process were also detailed. Such as the case of digital assistants and clinical decision support systems. In addition to artificial intelligence and use of algorithms to overcome different challenges and analyze medical records data, stressing the need of combining insights and artificial intelligence (AI) with deep knowledge of medical professionals.
"For pulling up a huge volume of data stored in electronic medical reports, AI solutions increase efficiency and effectiveness of Health delivery. This may be used for predictive models regarding patient results, such as chances of readmission or development of specific conditions, clinical decision-making, whether in diagnostics or treatment or risk stratification for development of certain medical conditions, this allows anticipated interventions," he adds.
From a business standpoint, companies need to consider the huge impact that AI and other technologies have on the performance of their strategies. This includes partnerships between Digital Health providers, startups, industry, hospitals and clinics. According to him, to understand the revenue flow between all partners and stakeholders is key in the process to become a leader in Digital Health.
For that, it should be considered a wide view on new technologies and trends, the market itself and competitors, as well as have clear processes, available assets and an innovation pipeline that considers financial impacts. In addition to innovation, be competitive and have capability to quickly develop and implement solutions that are superior to the competitors' is crucial, as well as to know their strengths and weaknesses.
"A competitive and innovative product has to hit the market before competitors. A point of attention is that medical software regulation may be slow. Hence, considering a platform approach helps speed up product development, and also invest in acquisitions and partnerships with other companies," he concludes.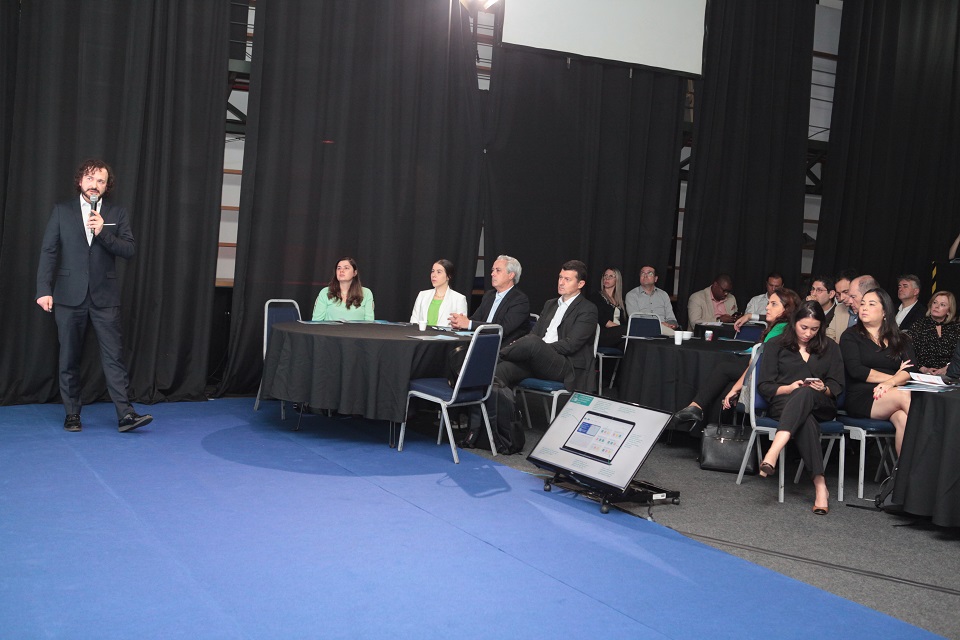 Photos: Marina Bustos
About the Global Summit Telemedicine & Digital Health APM
The largest and most relevant Latin America's Telemedicine and Digital Health meeting, lasting three days, the Global Summit APM, an initiative by the São Paulo Medical Association (APM), which brings together domestic and international experts to debate trends that are transforming the Health world. The agenda, focused on content experiences and business, includes topics in Telemedicine and Digital Health of interest for physicians, health professionals, institutions and Health entities, industry, academy and government, among others.
About São Paulo Medical Association
Representing physicians since 1930, the São Paulo Medical Association is present across the state of São Paulo through its 76 Regional Branches. Besides contributing to the drafting of Health and medical assistance qualification policies, APM makes efforts to value physicians in public and private health systems. It promotes various continued medical education activities, such as scientific events and APM's Higher Education Institute (IESAPM), and provides services and benefits to members and society, including the Residencial APM and Hotel Fazenda APM.